TAZZIC TALES!

| | | |
| --- | --- | --- |
| | | Text here about who Tazzic was. |
Stories
For the Weight of a Shoe... Nationals story
Desert Dance... Celebration in the Dunes
Winner's Circle... Karla's Scottsdale Native Costume story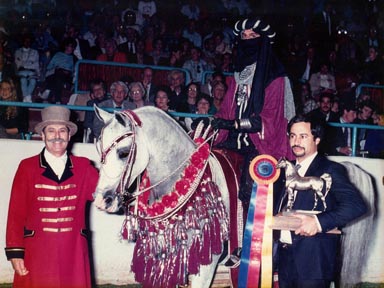 Tazzic was loved and owned by Louis and Karla Piergallini of Prescott Arizona. Tazzic is a Babson Influence horse through his lines to Baarouf.
Tazzic+

F. 3/3/1980 Grey Gelding

Prince Tazraff
Tazzrouf
Hamdan
Baaroufette (by Baarouf)
Seremah
Farlowa (by Abu Farwa)
Kaciradi
Maid Of Magic
Magic Maker
Royal Magic (by *Serafix)
MischiefMaker
Raazann-Syncopation
Baarhan (by Baarouf)
Razah

Send mail to BabsonArabians with questions and comments about this website.
Copyright 2008 Bint Al Bahr Arabians